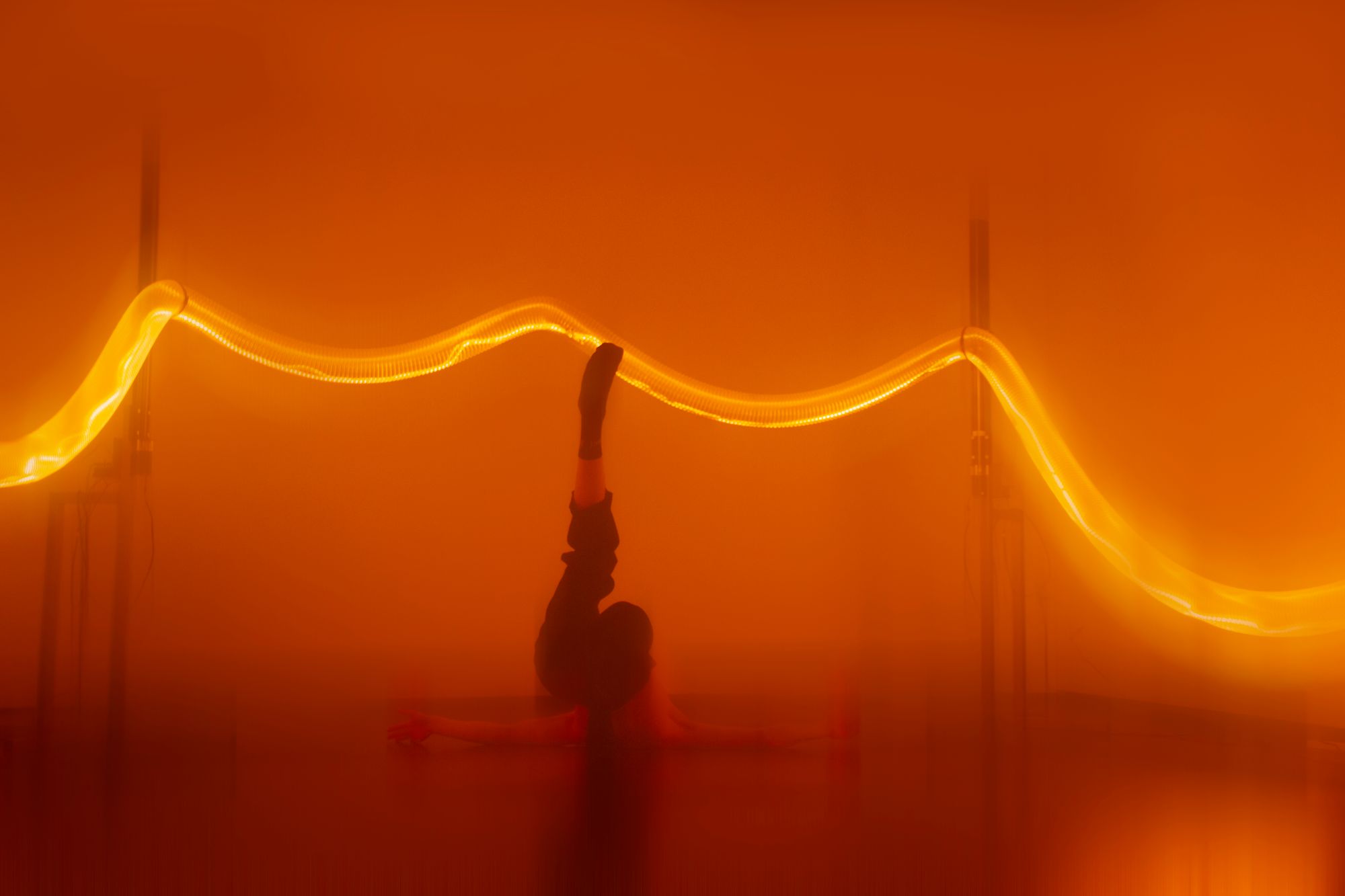 Moving Photon Trailer
Moving Photon is an interactive installation/performance created by installation artist Friendred Peng that explores embodiment, social connection and remote presence during the age of the pandemic. This work translates physiological data from live EEG recordings to an installation and explores embodied approaches in computational synergized space.
In this piece, EEG data is streamed live to control the morphology of an installation during a dance performance. The perception of the machine by the participant is translated into movement, manipulating the viewers' experience and creating a perceptive feedback loop of human-machine communication.
Visitors may also register for an interactive experience with the installation, where wearable devices will capture the movement of the body to orchestrate the motion of the installation.
There will be a virtual event during one of the evening performances during which participants will be able to interact remotely through a web browser and their mobile phones to explore a sense of presence through a virtual interface and experience collective social connection.
Exhibited at Ugly Duck, the Hub / 47/49 Tanner Street, London, UK, SE1 3PL
TICKETS
Installation exhibition ( Daytime )
TICKETS
Bookings
Participation in Moving Photon can be in 5 different ways, including a Phantom performance, interactive installation, interactive performance, interactive performance with EEG and a remote performance.
During the Phantom performance which will happen every morning, you will be experiencing an environment consisting of pre-recorded brain wave data from previous participants while they watch the dancer improvising. During the nights there will be performances you can register to attend. You can either choose to wear an EEG cap to watch the performance while the data is live streamed feeding into the installation directly or to be a spectator. The dancer will improvise according to the live manifestation of brainwave data. In the afternoon prior to the evening performances, you can book an interactive installation ticket where you can experience the installation using wearable sensors and data to directly control its movement.
*If you choose to participate for the EEG, you will be contacted by us prior to the performance with more detailed information.
*If you choose to participant participate remotely, a few things you might want to know before attending the performance:
Instructions will be sent out to you, and you will be asked to download an app on your mobile device
We will have a technical support team to help you to download and connect to our server to control the performance onsite
You will need to attend the performance online half an hour before it starts
Performance dates
5th - 9th January 2022
Director: Friendred Peng
Choreographer Seirian J. Griffiths
Music & Sound Design: Danny Hynds
Web development: Friendred Peng, Narayan O'Hanlon, Jacob Heredia
EEG recording : Laura Rai, Hennie Lee
Photography: Friendred Peng, Arturas Bondarciukas
Camera & Cinematography: Aurelia Bergs, Jono Moore
Post Production: Friendred Peng
This work is supported by Jamie Ward, the ERC Neurolive project (funding from the European Research Council (ERC) under the European Union's Horizon 2020 research and innovation programme [grant agreement No. 864420 - Neurolive]), The Royal Society, ReMap (Research in Media Arts and Play)