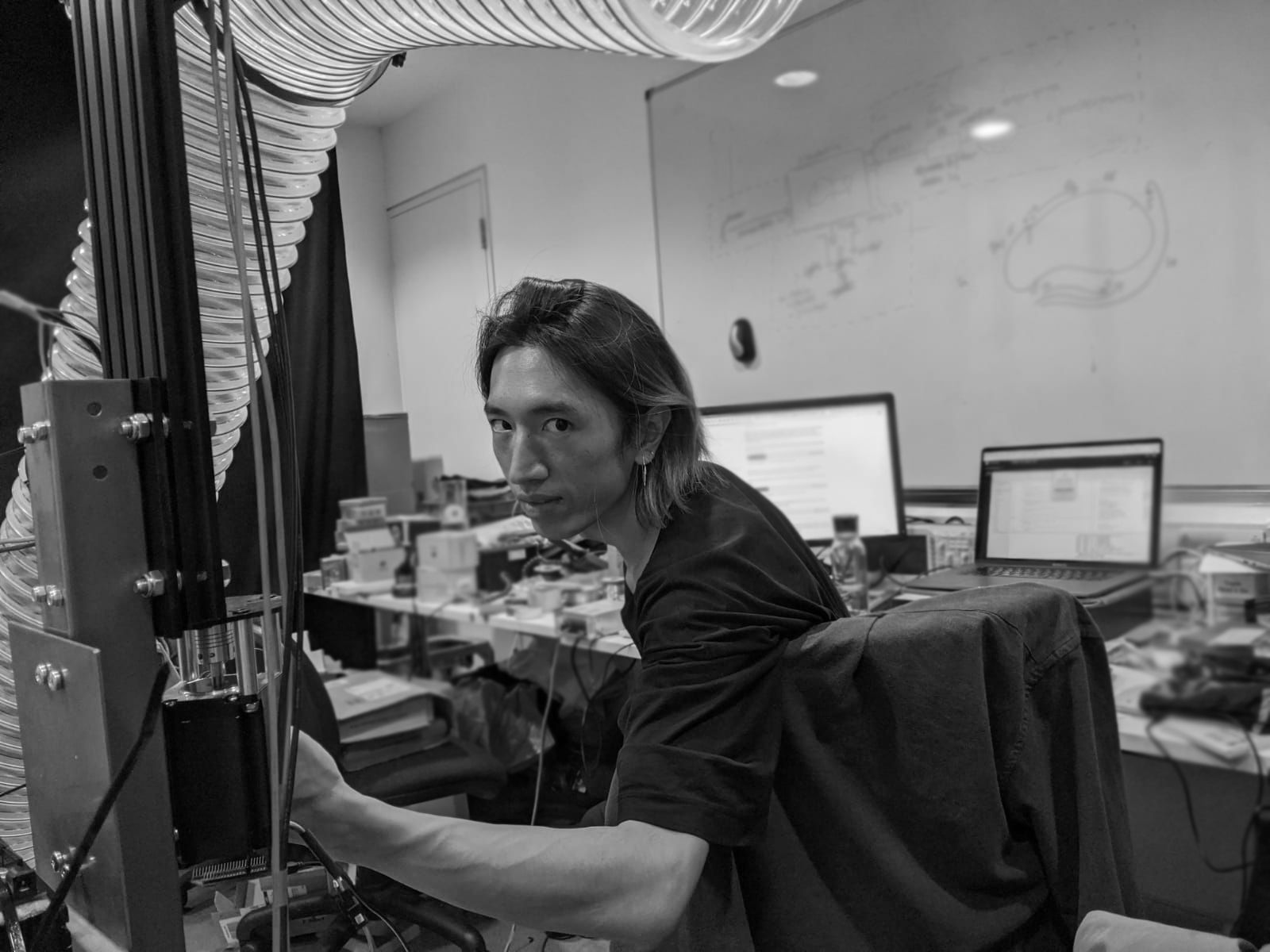 FRIENDRED
Computational Artist / Designer / Researcher
Based in London
Email: friendred0@gmail.com
‌             ‌
Biography
Friendred Peng is an installation and computational artist currently based in London, researching the intertwined relationship between technology and performance arts in the field of HCI and previously awarded a Distinction for MFA in Computational Arts at Goldsmiths.
Since 2015, Friendred has been focused on disciplines crossing arts, technology and sciences. His recent work bridged the conversation between movement and algorithmic machines, exploring the sensory apparatus and interactive systems. Through the exploration of technologized elements and societal influences and entangled relationships with other disciplines, the emergence of embodiment, technologized performance and architectural body became his main interest.
His works were published on several well-known design and technology platforms including DesignBoom and CreativeApplications and has won several prestigious awards including Shanghai Da Shi Award, the Bronze prize in the third Cultural and Creative Design Competition amongst others. Friendred has exhibited his works at Tate Britain, The Design Museum and several other museum and galleries.
‌             ‌
‌‌AWARDS & HONOURS & EXHIBITIONS
• 2021/2022   "Moving Photon" solo exhibition at Ugly Duck, London
• 2021   "Skin-awareness" will be shortlisted for OPPO renovator Award
• 2020   "Movement and Data Embodiment" was awarded Warden's Annual Public Engagement Award‌‌‌‌
• 2020  "Decision" series commissioned by Empathy Loading, Royal College of Art in partnership with Furtherfield
• 2019    Skin-Awareness III was premiered at Tempe, Arizona, the USA
• 2019    Movement and Data Embodiment was exhibited at Tate Britain as part of Late at Tate
• 2019    Cosmic Capsules was exhibited at The Design Museum as part of London Design Festival 2019
• 2019    Skin-awareness II was exhibited at Ugly Duck
• 2018    Baptism/Digital Trance was shortlisted the Emerge Digital Art Prize
• 2017    Red Psycho was awarded the Excellence Award in the eighteenth Da Shi Award in Shanghai
• 2017    Touch Me was awarded the Finalist Award in the 2nd Think - Youth Shanghai International Digital Creation, Innovation & Entrepreneurship Competition
• 2016    Red Psycho was awarded Bronze Prize in the third Cultural and Creative Design Competition
• 2016    Nature is Nobody and You were exhibited at Dutch Design Week
• 2016    Red Psycho was awarded the Excellent graduation design
• 2015    GujingGong Distillery Scholarship from Jiangnan University
• 2014    Thought and Colorless were awarded the finalist prize at the UXPA User Experience Design Award
• 2014    Symbiosis was selected for exhibition at the first Cultural and Creative Design Competition in Jiangsu, China
• 2014    Meiqi Hezi was awarded the Golden Prize at the OPPO Lighting LED Design Competition in Shanghai, China
• 2014    Awarded second prize at the 14th Culture and Art Festival - Spring in Jiangnan in Wuxi, Jiangsu Province
• 2014    Work About Dreams was awarded the prize for excellence in the online Youth Animation & Comics Contest
• 2014    Animal Modeling was awarded second prize in the 14th Jiangnan Spring Culture Festival artistic work collection contest
• 2013    MiG Studio Entrepreneurial team, awarded the prize for excellence in the Night of Dream competition
• 2013    Rong Zhiquan Scholarship (Municipal)
• 2008  "Race with the Sun" was awarded third prize in the National Private Arts Competition, China Private Educationist Association
‌‌CONFERENCE & WORKSHOPS
‌‌• 2020      Poster at the 2020 ACM International Joint Conference on Pervasive and Ubiquitous Computing and the 2020 ACM International Symposium on Wearable Computers (UbiComp/ISWC '20 Adjunct)
• 2019      Conference paper at MOCO conference (6th International on Movement and Computing) at ASU (Arizona State University)] in Tempe, AZ, the USA.
• 2019      Talk at EVA conference (Electronic Visualization and the Arts)] at CAS (Computer Arts Society)] in London.
• 2019      Talk at Innovation in Immersive Art & Tech UK-China workshop at Goldsmiths chaired by Dr Sylvia Xueni Pan, Annie Guo, and Prof William Latham, sharing my artistic practices under the theme of learning the practicalities about doing business with China. Also an opportunity to form a consortium for a further AHRC grant.
• 2018      Assisting Conductive Coding Workshop at Tate Modern organized by Dr Sarah Wiseman and Emilie Giles, exploring E-textiles form a kinetic responsive interfaces.
• 2018     Projection Mapping Masterclass assistant with Dr Blanca Regina
• 2017     Volunteered at 4th MOCO (International Conference on Movement and Computing), London, UK
• 2017     Living Data City Challenge Hackathon in Eindhoven, Netherlands
• 2016     Sex Robotics Tech Hack, London, UK
• 2015     UK-China  Spring Workshop with Lancashire University
• 2015     UK Interactive Patina of Culture Spring Workshop in Science and Education New Town, Tai Cang, China
• 2014     Interactive Patina of Culture Winter Workshop in Science and Education New Town, Tai Cang, China
‌‌CITATIONS & NEWS
• 2022     "Moving Photon" Featured on SEISMA magazine
• 2022     "Moving Photon" Featured on AWE curation, New Media Art
• 2021     "Skin-awareness" Featured on Wallpaper magazine as part of OPPO Renovator shortlist Award
• 2020     Featured on FAD magazine as part of Empathy Loading, Furtherfield
• 2019      Exhibition, Movement and Data Embodiment was exhibited at Tate Britain as part of Late At Tate
• 2019      "Cosmic Capsule" was exhibited at The Design Museum as part of the London Design Festival
• 2018      Performance, Skin-awareness was published on Creativeapplications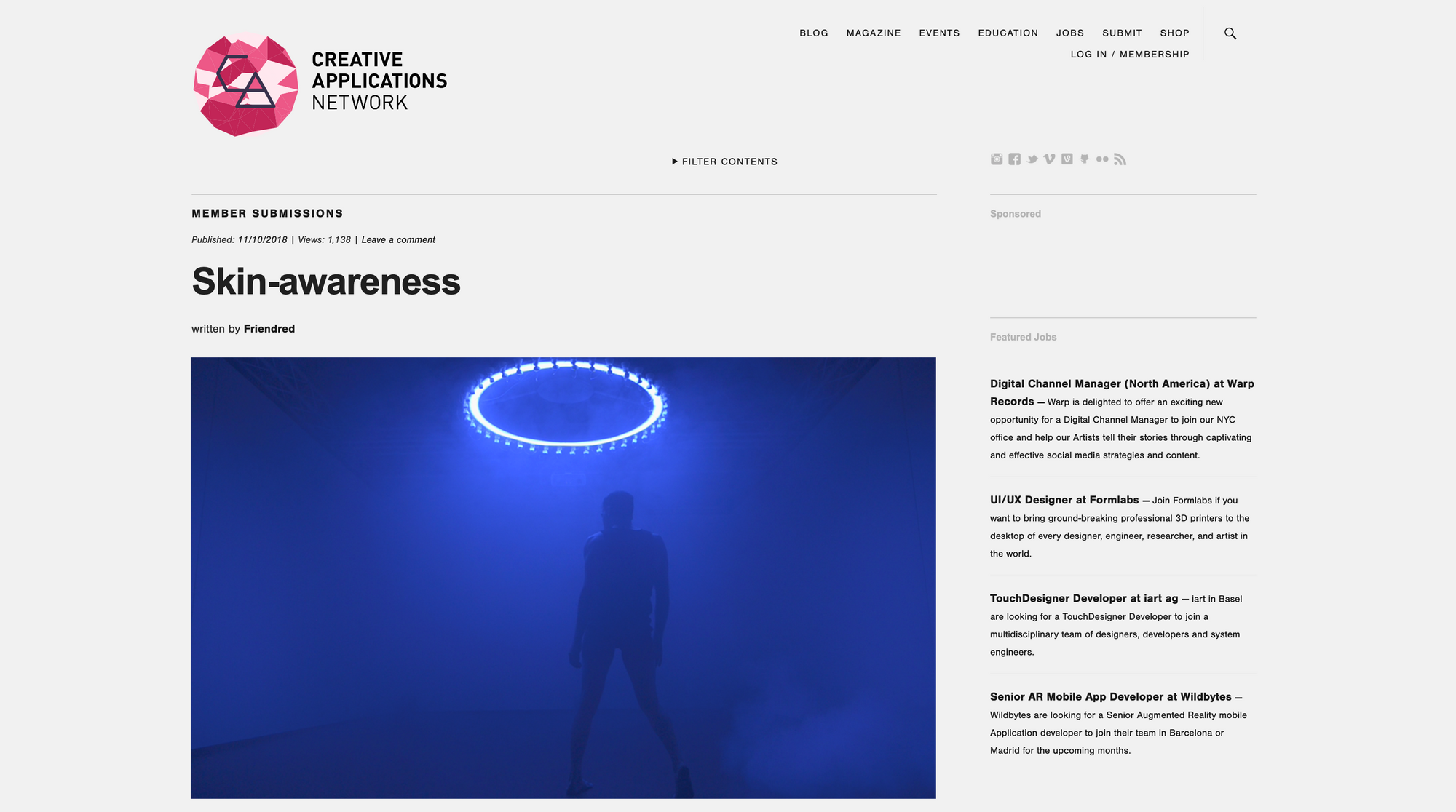 • 2017      Performance of Baptism/Digital Shaman was published on DesignBoom, Arts in Paris, Manamana (Chinese news media arts main-stream platform) and Korean platform etc., and received highly prominent viewings, more than 51,000 views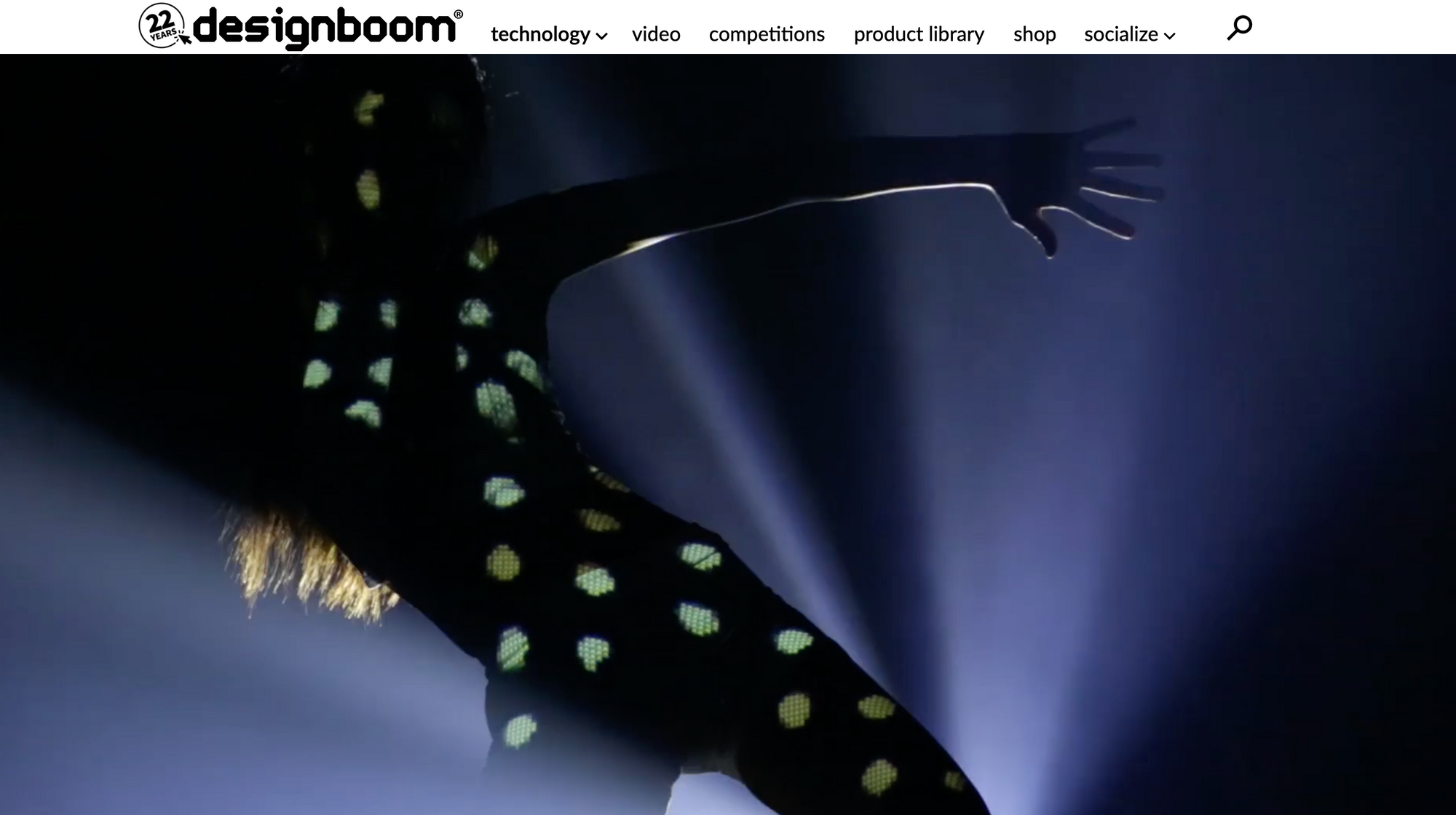 • 2015      Participated in the Shanghai OF COURSE Aircraft Workshop (2015/7/4)
• 2015      Participated and presented at the Shanghai MANA New Media Art Technology Sharing (2015/11/30)
• 2015      Promoted as Visual Talent by Guangzhou Wanwanpi (2015/11/30)
• 2015      Promoted as new creative people by Meantime creative magazine (2015/10/20)‌